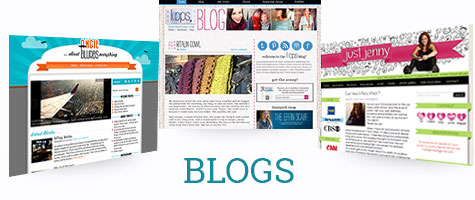 StudioPress Theme Customization
Starts at $750
We create our custom blog designs utilizing the Genesis Framework from StudioPress for WordPress. With StudioPress, you have the ability to choose from one of over 50 themes for us to customize. There is no need to purchase the Genesis framework from StudioPress, as that is included in the cost of your design. If you prefer a completely custom blog design, you may Request a Quote from us.
What You Get:
Genesis Framework + Genesis theme of your choice ($79-139 value) 

(third-party themes will incur an additional fee)

Custom header design
Color Scheme to match your Header Design
Additional fonts from Google Web fonts (optional – up to 2)
Custom background
Coordinated graphics
Favicon
Social media icons
Add ons (available for additional fee):
Blog Buttons, Social Media Integration, Social Sharing buttons
Theme restructuring

(changing column widths, adding new widget areas, etc)

Widget installation

(widgets shown in demos are not automatically included when installing a theme and must be added manually)

Content management

(This includes adding or editing posts & pages, installing/styling plugins, adding links to your menu bar, etc.)

Blogger to WordPress Migration

(This includes importing all posts, images, and categories, as well as setting up redirects so Google can find the new blog from old indexed posts)
Custom Website Design
Starts at $3000
Our Custom WordPress Website services are created with your specific needs in mind and are tailor-made for your business. We don't believe in a "one-size-fits-all" solution here.  Get Your Free Quote Now
What You Get:
Set Up and Installation –

(We'll set you up with hosting and help you secure your domain name, if you don't already have it)

Theme Design and Development services-

(includes a mockup design of your new site with header, background and general styling of your theme's typography and colors. May also include custom widget areas, creating custom page templates, plugin installation, content input and migration, image and alt tag optimization, XML sitemap, 301 Redirects, etc.

)
Choice of Home Page Design –

(You may choose whether to have a blog-style home page, which displays your most recent posts in chronological order; or a website-style home page, which displays easily-updateable static content. If you choose a website-style home page, you may have the option of adding a blog to your website as well.)

Collateral Branding (if applicable) –

(Please note that logo designs are not included with this price.)

Extras
–

Integrated Blog with widgetized areas


–

Open Graph Protocol, schema markup and microdata for added SEO benefits


–

Google analytics – a valuable traffic analysis tool that keeps track of visitors and what they do; produces valuable reports to determine what is working — and what isn't working on your website.


–

Your website is expandable and upgradable as your business needs grow.


–

We empower and equip you with the ability to make any changes necessary to your website and will teach you what you need to know.


–

We offer additional add-ons because we know that not every client needs every functionality we offer.


–

We'll also be here to help you get started with an hour of online training and 30 days of email support.
Add ons (available for additional fee):
Hosting & domain name registration
Shopping carts and shopping cart set-up
Email forms
Newsletter creation
Writing and copy editing
Membership sites
Social Media icons, Social sharing integration for multiple social platforms
Facebook, Google +, Twitter, Youtube Branding
Weekly backup configuration (Set to automatically do full-site backups on a weekly basis to Amazon S3 so that you always have a current copy of your website backed up)
SEO

(Search Engine Optimization)

Optional mailing list opt-in form which lets visitors subscribe to receive email information and promotions from you.
Content management

(This includes adding or editing posts & pages, installing/styling plugins, adding links to your menu bar, etc.)
Need Something Else?
Chances are, we can help! If you need a service that is not listed here, or have a question for us, please contact us.